K–12 Teachers Get Free Trial Memberships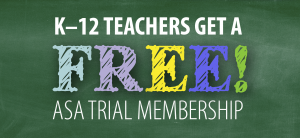 This special offer is tailored for K–12 educators so they can enhance their students' statistical education.
Teachers, you will the receive the following in your trial membership:
Access to professional learning community teaching resources, including webinars, peer-reviewed lesson plans (STEW), Census at School, and publications such as Statistics Teacher, GAISE: A Pre-K–12 Curriculum Framework, Bridging the Gap Between Common Core State Standards and Teaching Statistics, and Making Sense of Statistical Studies.
Information about upcoming events and services for K–12 teachers and students, including workshops, student competitions, data sources, and publications.
Access to the ASA Community's K–12 discussion group, where like minds share ideas, questions, and resources.
Subscriptions to Amstat News, the ASA's monthly magazine, and Significance, a magazine for international outreach and statistical understanding.
Members-only access to the ASA's top journals and resources, including online access to CHANCE magazine, the Journal of Statistics Education, and The American Statistician.
Activate your free trial membership now!
Free trial membership is valid for new ASA members only.