Improve Quantitative Literacy with Graphs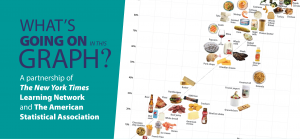 Live Discussion Now Weekly on Wednesdays
Build quantitative literacy with your middle- and high-school math, science, and humanities students with the free weekly online feature "What's Going On in This Graph?"
Starting on September 12, The New York Times Learning Network—in partnership with the American Statistical Association—will host a live discussion most Wednesdays throughout the school year about a timely graph. The graphs will be of different types and context, and we will ask students the following questions:
What do you notice?
What do you wonder?
What's going on in this graph?
Students from around the world can "read" the graph by posting comments about what they notice and wonder about in an online forum. Our staff live-moderates by responding to the comments in real time and encouraging students to go deeper. All releases are archived, so teachers can use previous graphs anytime.
Visit this introductory post and this article about how teachers use this powerful activity.