ThisIsStatistics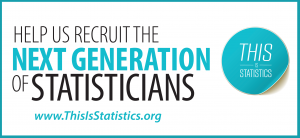 The field of statistics is growing fast. Jobs are plentiful,opportunities are exciting, and salaries are high. So what's keeping more kids from entering the field?
Many just don't know about statistics. But the ASA is working to change that, and here's how you can help:
Site features include the following:
Videos of young statisticians passionate about their work
A myth-busting quiz about statistics
Photos of cool careers in statistics, like a NASA biostatistician and a wildlife statistician
Colorful graphics displaying salary and job growth data
A blog about jobs in statistics and data science
An interactive map of places that employ statisticians in the United States
If you're on social media, connect with us on Facebook and Twitter. Encourage your students to connect with us, as well.